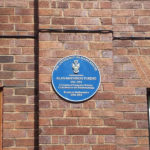 Round plaques have become a common sight across the UK, used to commemorate famous historical figures and events at key locations. Manchester city centre is no stranger to these plaques, with a large number dedicated to the many aspects of our city's rich history – as well as blue plaques that are placed for historic people, we also have red plaques for key events in our social history, and black plaques for buildings that have either architectural or historical significance.
We've put together a list of some of Manchester's most significant plaques, with information about what led to the commemorations and where you can find them.
People
Emmeline Pankhurst
The impact Emmeline Pankhurst had on the country is still seen today, with Pankhurst widely credited with the foundation of the UK suffragette movement, which later led to women being given the vote.
Pankhurst was born in Moss Side in 1858, and although she spent her later years in London where she did some of her most renowned work, her Manchester beginnings are still rightly remembered.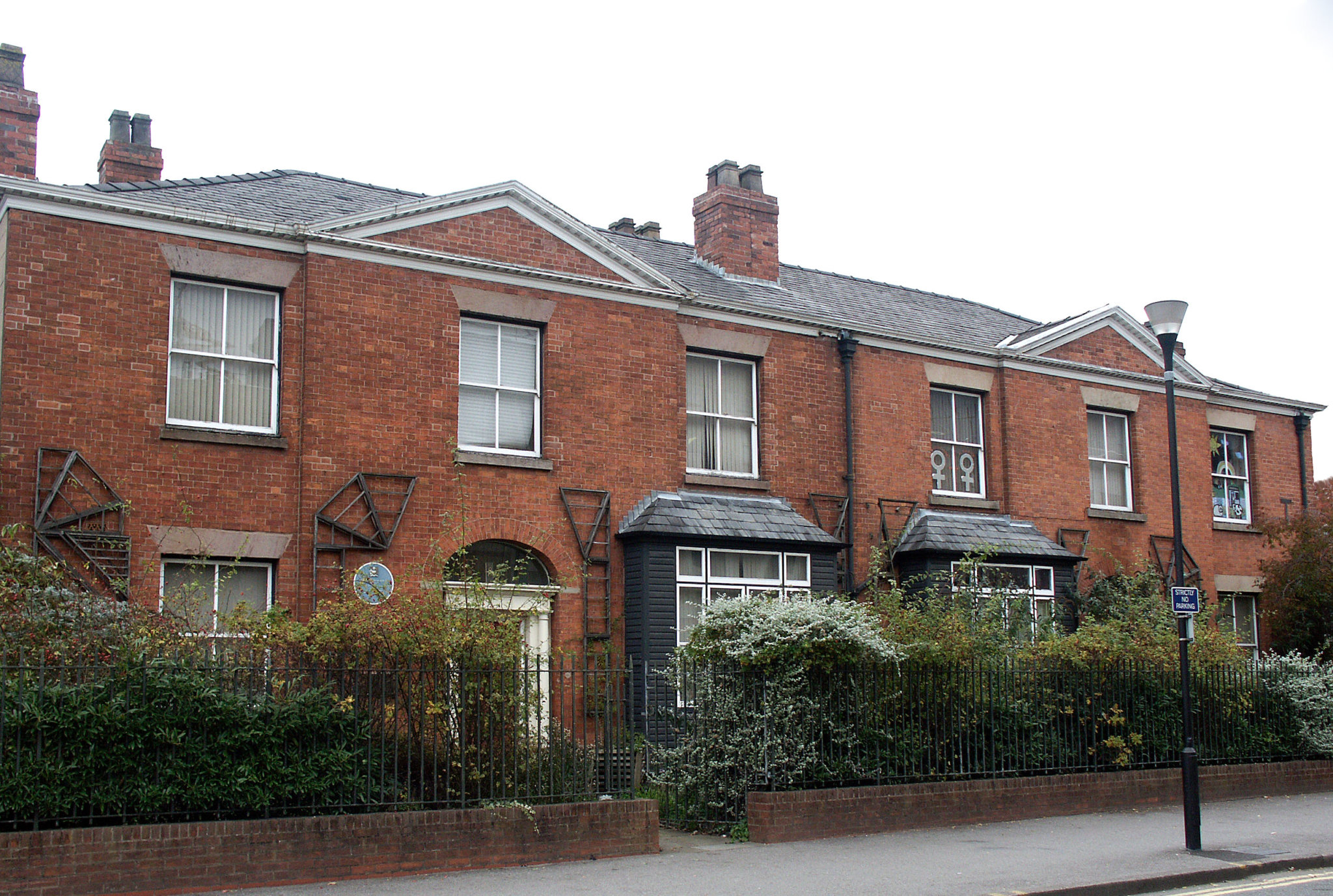 A blue plaque for Pankhurst, and her daughters Christabel and Sylvia (also key members of the suffragette movement), is affixed on the Pankhurst Centre, a museum and workshop space on the grounds of Manchester Royal Infirmary. The centre is housed within two Victorian villas at 60-62 Nelson, one of which was the home of the Pankhurst family from 1897-1907, and also the location of the first meeting of the movement that became the suffragettes.
Elizabeth Gaskell
Elizabeth Gaskell is one of the country's most well known Victorian authors, with some of her renowned works including "Ruth" and "Cranford". Also a successful biographer, she's similarly remembered for her publication of "The Life of Charlotte Brontë" in 1857.
Though she was born in London, she lived in Manchester from the 1830s, following her marriage in Knutsford. From 1850 until her death in 1865, she lived in a house on Plymouth Grove in Ardwick, now the location of a museum and blue plaque for the writer.
John Alcock & Arthur Whitten Brown
In June 1919, the first ever successful, non-stop transatlantic flight took place, going from Newfoundland, Canada to Country Galway, Ireland. The flight was piloted by Sir John Alcock and navigated by Sir Arthur Whitten Brown, both of whom have links to Manchester. Although the flight was a success, the two men went through extreme conditions during their 16 hours in the air, with both later hailed as heroes, and knighted a few days later by George V.
Alcock was born in 1892 in Firswood, Manchester, and now has a blue plaque on his former home at 6 Kingswood Road, Fallowfield commemorating his achievement. Similarly, Brown has a blue plaque on his former home at 6 Oswald Road in Chorlton.
L.S Lowry
One of the most well known artists of the 20th century, LS Lowry was born in Stretford and spent much of his life in Manchester and the surrounding areas, painting North West scenes of day to day life.
As well as Salford's theatre and outlet mall being named after him, there are also numerous plaques across the North West for him. Specifically in Manchester, you'll find a plaque on the Limelight Building on Shrewsbury Street in Stretford commemorating his birth place, and one on 117 Station Road in Swinton, where he lived from 1908 to 1948.
Charles Hallé
Charles Hallé was born Karl Hallé in the Westphalia province of Prussia in 1819, but soon made England his home, changing his first name in the process. He learned to play the piano from his father at an early age, later tutored by German composer Christian Heinrich Rinck in 1835, before turning his attention to conducting orchestras. He moved to Manchester in 1853, and four years later was asked to assemble a small orchestra to play for Prince Albert, with this soon becoming the Hallé Orchestra, who still play today with Bridgewater Hall as their base.
There are now two plaques for Hallé in Manchester. The first is located at Duxbury Square, Moss Side, and marks the former location of his home from 1858-1895. The second is shared with artist Ford Madox Brown, and marks their residence at Addison Terrace on Daisy Bank Road near Longsight.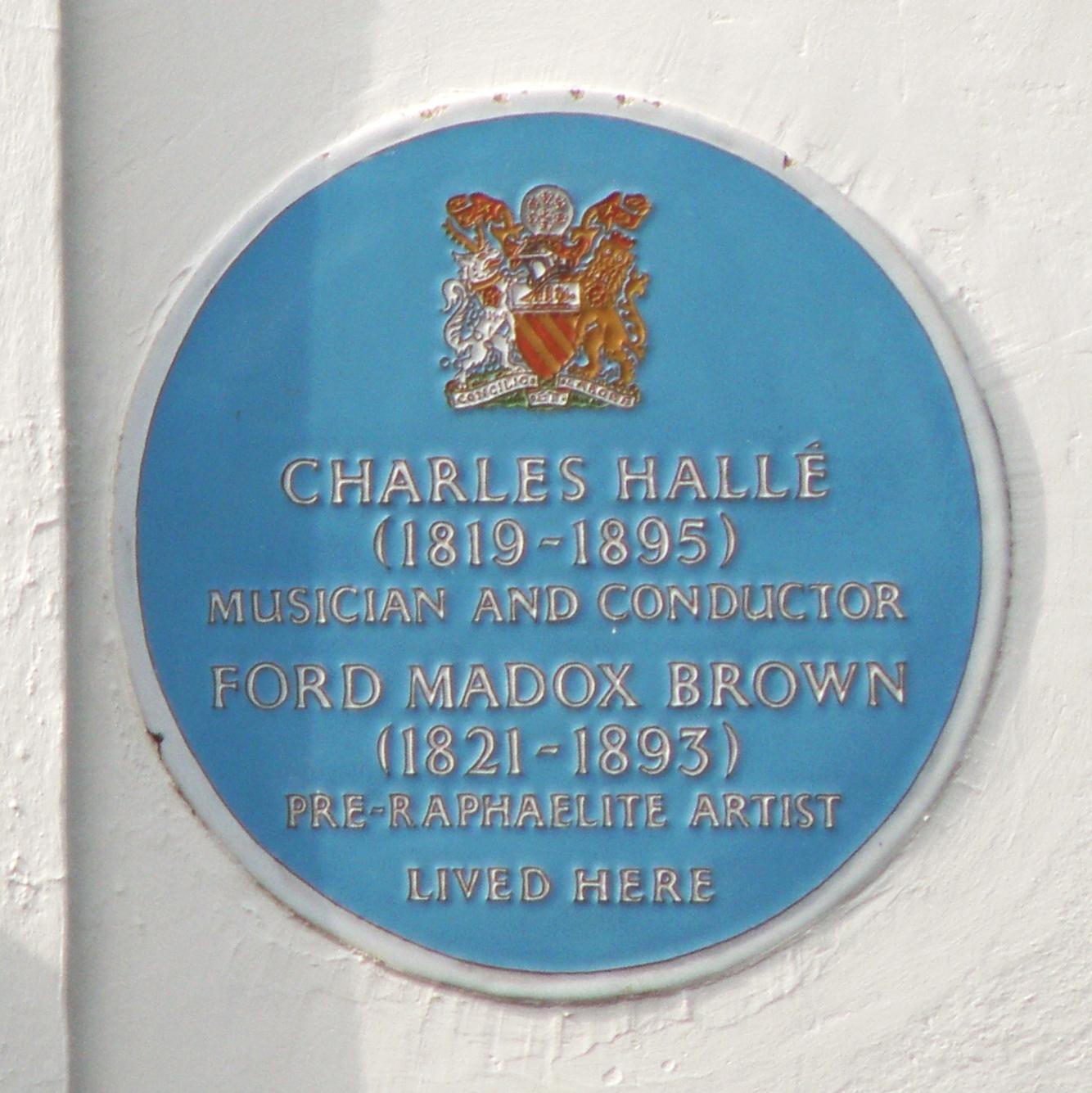 John Dalton
Originally from Cumberland, John Dalton is best known for the important work he carried out during his time in Manchester. Credited as the founder of scientific atomic theory, Dalton spent many years working on theories in Manchester laboratories and academies, later being awarded the Royal Medal in 1826 for his achievements.
There are two locations in the city centre of Manchester where you'll find blue plaques for John Dalton. One marks the former site of his laboratory on George Street, while the other is located in the Peace Garden on Mosley Street, where the academy he taught mathematics and natural philosophy at once stood.
Alan Turing
Alan Turing is known as one of the greatest codebreakers in history, with his work at Bletchley Park during World War II estimated to have shortened the war by at least two years. In later life, he moved to Manchester where he worked at the University of Manchester's Computing Machine Laboratory.
He has numerous blue plaques across the UK for his achievements, as well as a statue in Manchester's Sackville Gardens. A plaque commemorates his work at the University of Manchester's Coupland Building.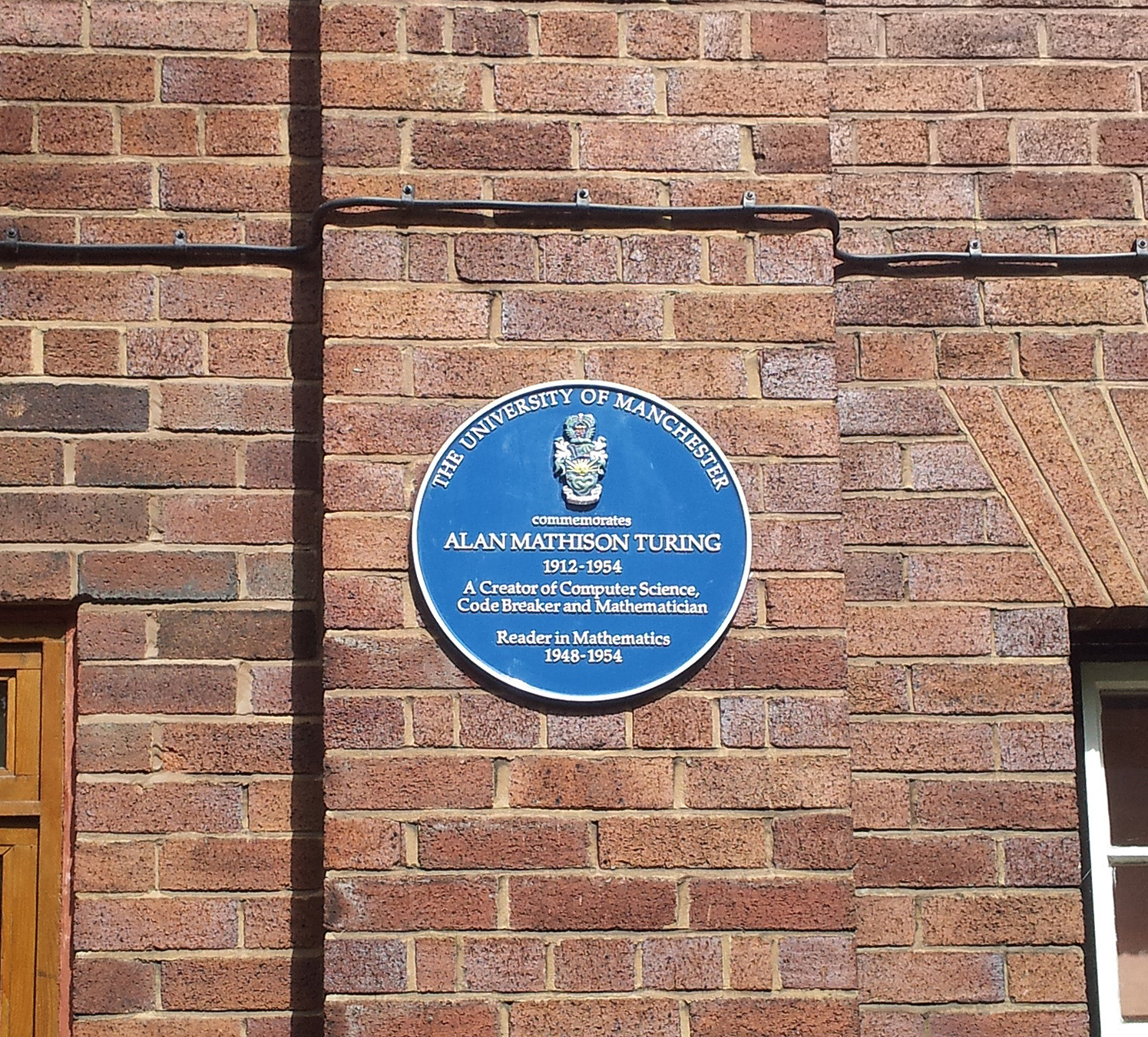 Charlotte Brontë
The eldest of the well known Brontë sisters, Charlotte Brontë is best known as the writer of Jane Eyre, as well as other literary classics including Shirley, Villette and The Professor.
Very few know about her connection the city of Manchester though, which came in 1846, when she accompanied her father Reverend Patrick Brontë to the area for a cataract surgery. While in Manchester, they stayed at 59 Boundary Street West, and in that location, you'll now find a blue plaque on the front of The Salutation pub.
Ernest Rutherford
Now known as the "father of nuclear physics", Ernest Rutherford is one of the most renowned physicists in history. A Nobel Prize in Chemistry winner, Rutherford is credited with discovering the concept of the radioactive half-life, and differentiating between alpha and beta radiation.
In 1907, Rutherford arrived in Manchester and began working at the University of Manchester, where he continued his work and made several more groundbreaking achievements. He has two blue plaques at Manchester University – one marks his time as Langworthy Professor of Physics from 1907 to 1919, and is located on the museum building, while the other is on Coupland Street at the laboratory he led.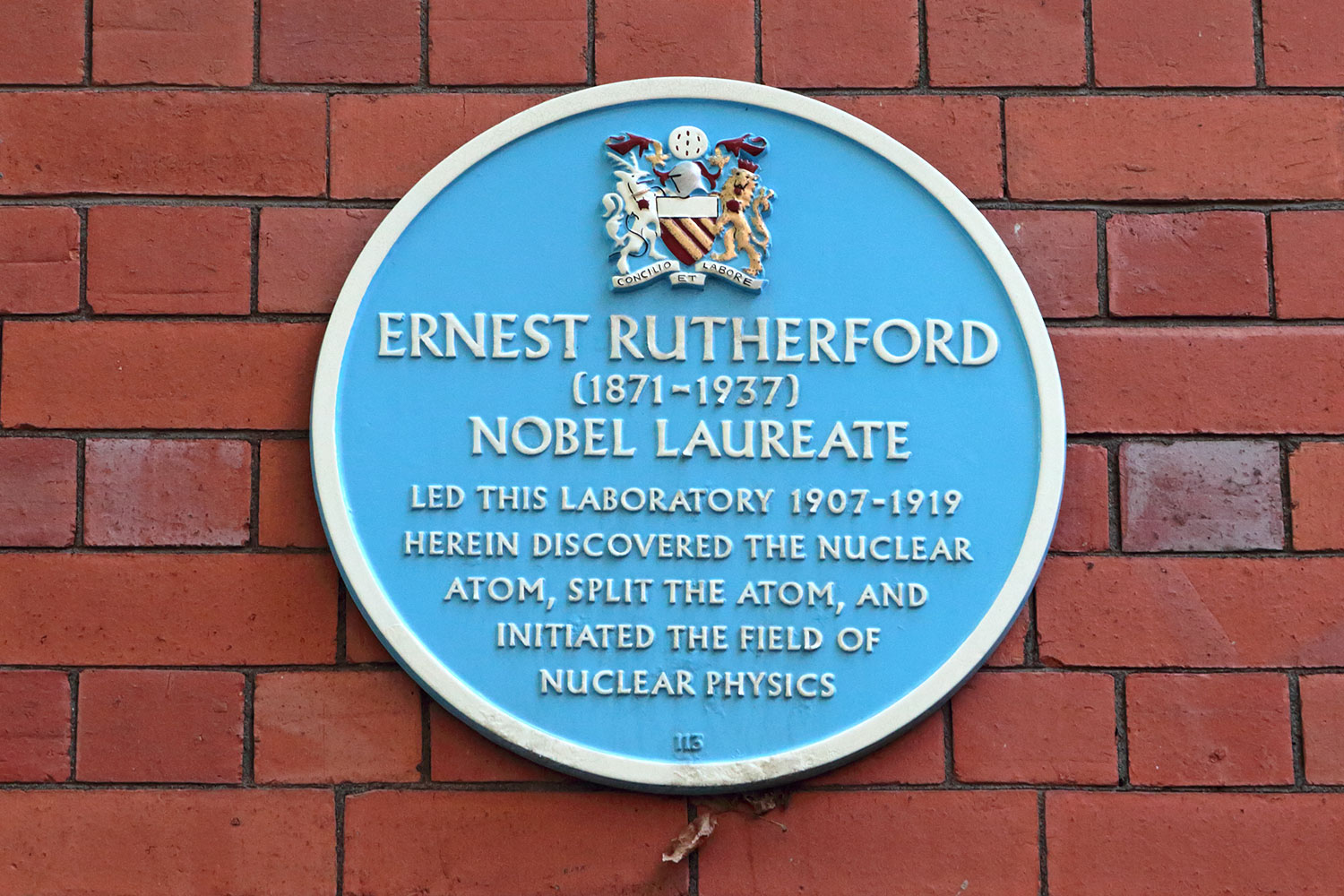 Anthony Burgess
Anthony Burgess was a famous author and composer, originally from the Harpurhey area of Manchester. As well as composing several musical works, and publishing a large number of acclaimed novels, he's best known for his writing of the satirical "A Clockwork Orange" in 1962, later turned into a Stanley Kubrick directed movie.
Before becoming an established author, he graduated with a BA in English in 1940 at the University of Manchester, where a blue plaque now commemorates his career on the Samuel Alexander Building.
John Rylands
Nowadays, the name John Rylands is associated with the library named after him on Deansgate, but was actually a key part of Manchester's industrial heritage. Rylands went into partnership with his father and brothers in 1819, forming Rylands & Songs, a textile manufacturing firm. Originally operating in Wigan, they later opened a warehouse in Manchester, which was later expanded to stretch across a huge distance and stand at seven storeys.
Eventually, Ryland became the first multi-millionaire of Manchester, with his textile firm the largest in the UK. He now has a blue plaque in Stretford's Longford Park, dedicated to both him and his wife, who founded the well-known library in his memory.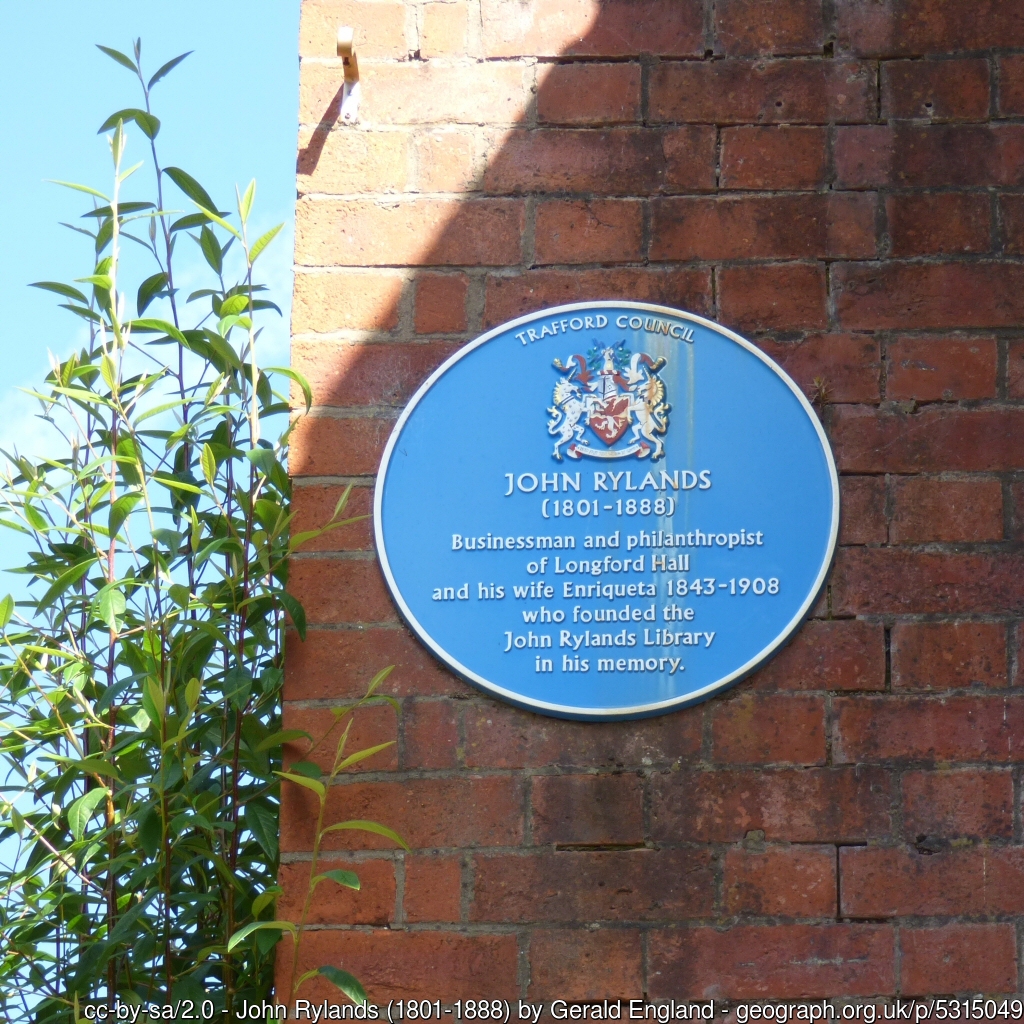 Alliott Verdon Roe
Well known for making big achievements in air travel, Sir Alliott Verdon-Roe is known for being the first Englishman to fly a self-designed aircraft. In 1910, he founded the company Avro, an aircraft manufacturer who built the Avro Lancaster, a prominent Second World War bomber.
Avro was founded at Brownsfield Mill, off Great Ancoats Street, which still stands today. It's here you'll find a blue plaque dedicated to Sir Alliott, and younger brother Humphrey Verdon Roe.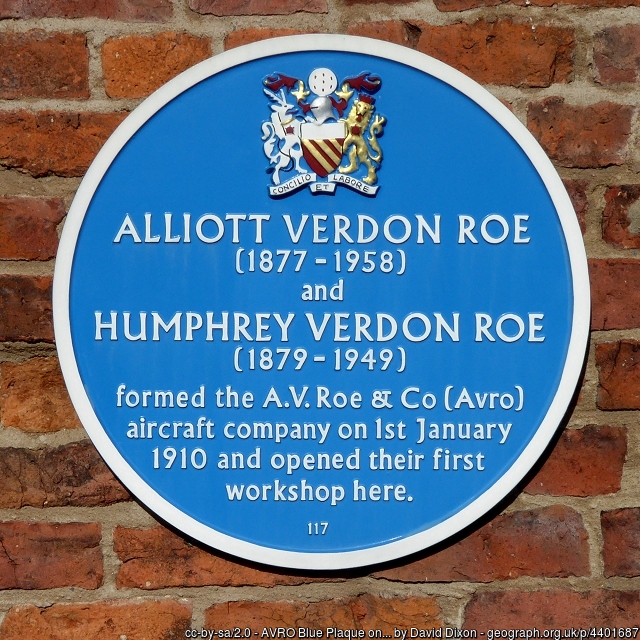 Henry Royce
Manchester's Midland Hotel is well known for being the location of the first meeting between Henry Royce and Charles Rolls, which led to the eventual founding of Rolls-Royce.
While this is a popular fact, it's not commonly known that Manchester was also the location where the first ever Rolls-Royce car was built in 1904. Specifically, the car was built at a site in Hulme, with a plaque marking the location at what is now Hulme Park.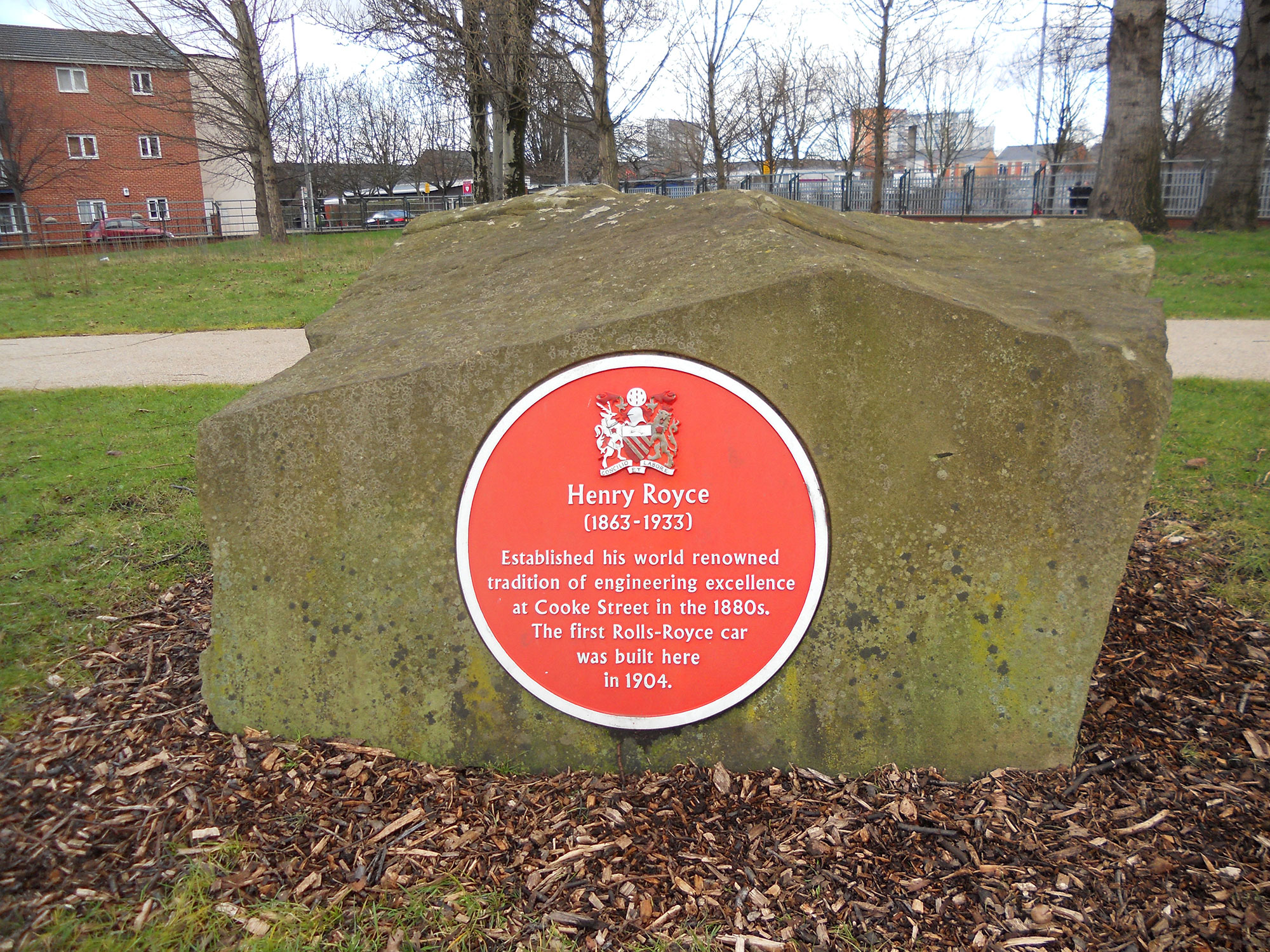 Duncan Edwards & Tommy Taylor
In 1958, Manchester United's first team squad and staff were involved in a tragic air incident in Munich, with a plane crash leading to the deaths of 23 people, including eight players. The team was known as the "Busby Babes" during a period of success under manager Matt Busby, and while there are many tributes for the those who lost their lives, there are two plaques that can be found in Manchester for individual players.
Duncan Edwards, who died 15 days after the crash in hospital, is remembered in a plaque at his former address of 19 Gorse Avenue in Stretford, while teammate Tommy Taylor has a plaque at 22 Great Stone Road, also in Stretford.
Places & Events
Peterloo Massacre
Last year marked the 200th anniversary of the tragic Peterloo Massacre, when, on 16th August 1819, a cavalry of police charged into a crowd of approximately 60,000 people who were protesting for parliamentary reform.
The massacre happened at St Peter's Field, an open public space based around where St Peter's Square now stands. For many years, a blue plaque commemorated the event at this location, which was often criticised due to its wording. It was replaced in 2007 by a red plaque, which now mentions the 15 deaths and 600+ injuries that occured, while in 2019 a new memorial was unveiled in St Peter's Square. The red plaque can be found on the side of the former Free Trade Hall on Peter Street, now a hotel.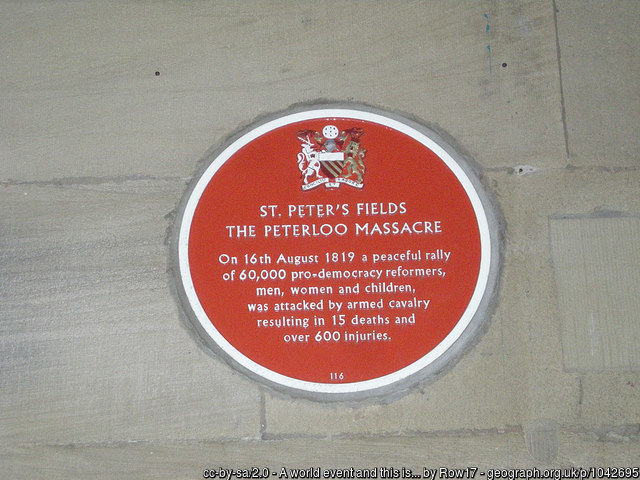 Bank Street Ground
Manchester United is one of the biggest supported, most famous football teams in world football, with Old Trafford their well known stadium for 110 years. However, back in 1893 when still known as Newton Heath FC, United started to play their home games at the Bank Street Ground, located in Clayton.
Demolished in 1910, Manchester Velodrome now stands on the site, while a red plaque affixed to a terrace across the road marks the location.
Founding of the Football League
After many years of football clubs organising their own fixtures, meetings took place in 1888 in which the idea of a league-based competition was proposed. Discussions led to the eventual creation of the Football League, with the formal foundation taking place at a meeting on 17th April at Manchester's Royal Hotel.
Shaping the future of sport, the meeting is a hugely important part of football history, though the hotel that hosted it is long gone. However, a plaque marks the spot at the approximate location of the hotel, affixed to a branch of Santander on Market Street, facing Piccadilly Gardens.