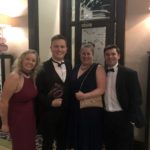 We are delighted to announce that Lewis Thompson, associate solicitor in our Private Client team, was named Legal Professional of the Year 2019 at the JCI Manchester Young Talent Awards.
The awards ceremony, which took place at The Midland Hotel, attracted hundreds of Manchester's most talented young professionals.
The annual event recognises outstanding individuals between the ages of 18 and 40 who exemplify the best attributes of Manchester's young people.
The awards featured talent across varied sectors including finance, legal, property, recruitment, marketing and media.
The judges felt Lewis' passion for his work was indisputable including supporting his elderly clients.
Kate Oldfield – managing partner – said: "This is an amazing tribute for such a young and talented lawyer at this stage in his career. The firm is incredibly proud of his achievement."