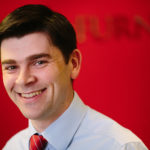 Our residential property department has reported that it is now handling nearly the same number of transactions as it was before the government suspended viewings in March and the housing market subsequently stalled.
The team handles residential sales and purchases across the North West with transactions varying from studio flats to multi million pound properties.
Our experiences mirror the findings of HMRC which reported that total residential property transactions in the UK were up 16% on a monthly basis in May as the country eased its way out of lockdown.
Its figures also revealed that there were 48,450 residential transactions during the month, whilst non-residential property transactions stood at 5,880, which was 14.1% higher than in April.
Richard Hamilton – Head of Property – said: "The property market has been battered over the past quarter, but there is most definitely optimism and there is an appetite from buyers and sellers to get deals concluded. I think the next few months will be key as the government's furlough scheme begins to wind down and the true impact of Covid-19 on the employment rate becomes apparent.
Richard added: "I hope the actions taken by the government so far will aid medium term confidence and stability. However, the key will be for them to take a nimble approach moving forward so they are able to react quickly and put in extra measures if, and when, they're needed. One option could be a stamp duty holiday."