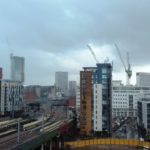 Richard Hamilton, head of the Davis Blank Furniss property team, discusses some of the most exciting property developments coming to Manchester in 2019 & beyond. View Richard's profile.
Being based in the centre of Manchester means we have the privilege of seeing our city grow on a daily basis. It's currently a hive of cranes and construction, with eye-catching new developments popping up regularly, including innovative new architecture, and record-breaking skyscrapers.
Looking ahead to the coming years, we've decided to put together a look at some of the most exciting up and coming developments that we'll see take shape in 2019 and beyond.
1. Deansgate Square
Deansgate Square is a new development based at the bottom of Deansgate between Commercial Street and Owen Street. The absolute highlight of the development is the square's South Tower, which despite having a completion date of 2019, has already smashed records.
A stone's throw away from the new build is the iconic Beetham Tower, opened in 2006 to become the tallest UK building outside of London, with its 169m height making it the biggest in Manchester. The record was held for approximately 12 years, until earlier this year when the South Tower's construction reached a point that took it higher for the first time.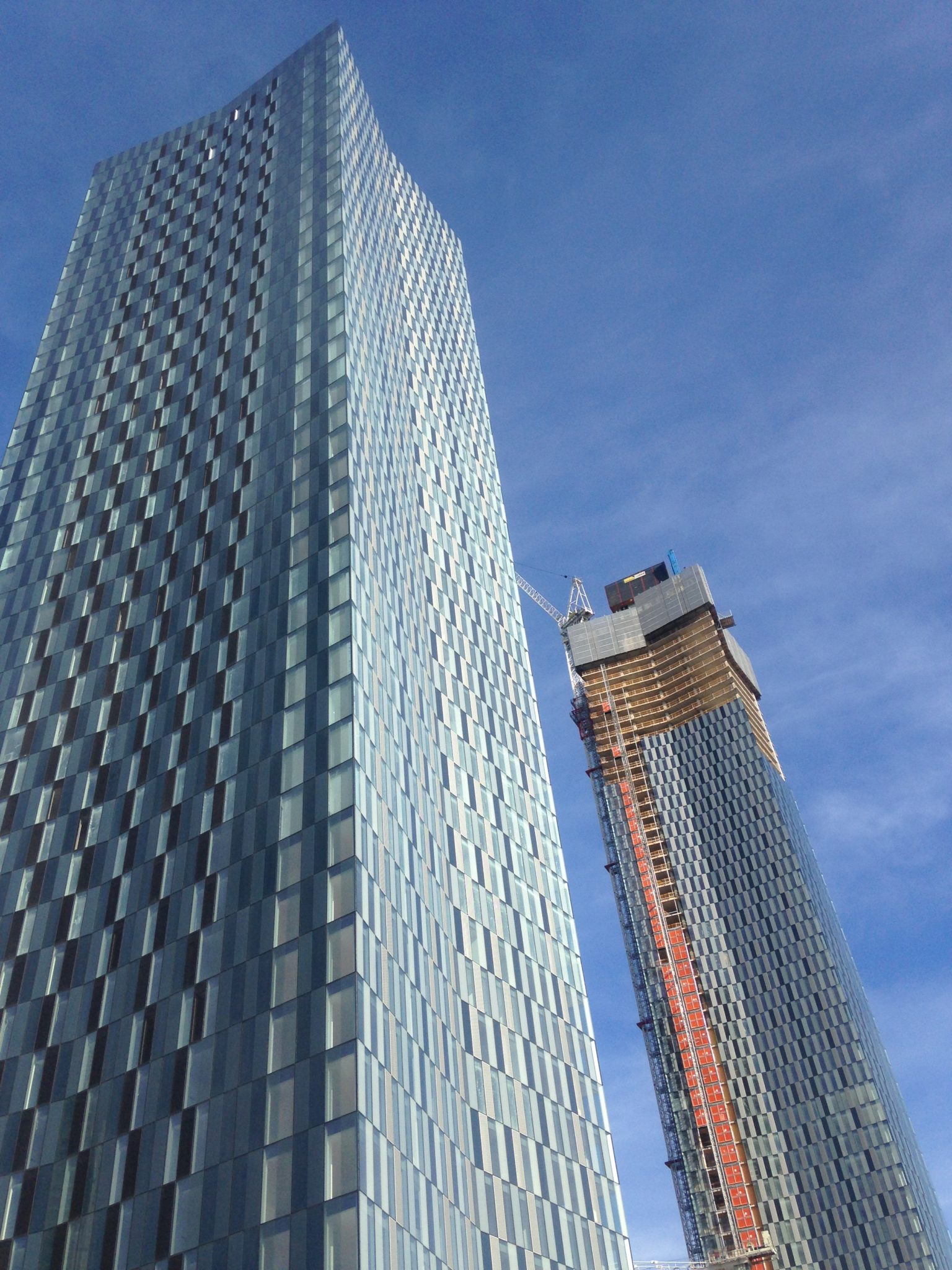 Upon opening, the South Tower will be 201m tall, but it's not the only part of the Square development. It's joined by three other towers, although none of them are set to beat the South Tower's new records. The West Tower will be the third tallest in Manchester at 141m, while the East will be 158m and the North 122m.
The towers will primarily be used as office space, with Legal & General set to take over the entire West Tower when it's completed with the South Tower next year. The other two builds, East & North, are currently scheduled to open in 2020.
2. Angel Gardens
Located in the North of the city, Angel Gardens is based on Angel Street, and will open next year as over 460 separate apartments.
At 34 stories, measuring up to 108m in height, the building is part of the NOMA redevelopment that has seen North Manchester revitalised, with stylish buildings such as One Angel Square created in the ongoing project.
Angel Gardens is one of the latest buildings in the area to take shape and will become Manchester's fifth tallest building upon completion.
3. The Factory
It's not all skyscrapers on the horizon; The Factory is an innovative development in the Castlefield area, set to be built on the site of an iconic part of the city.
Based on the site of the now relocated Granada Studios, The Factory will be a theatre and arts venue on Water Street and will be built close to the former home of Coronation Street, after operations moved to Salford in 2013.
It's set to house a 1,500 seater theatre, as well as a large flexible performance space known as 'The Warehouse', that could hold up to 5000 people.
Artistic Director & CEO of The Factory, John McGrath said of the project: "The Factory opens up a new kind of opportunity for artists. This uniquely flexible venue provides real space and time for artist to explore different kinds of collaborations, invent new kinds of art in a city that has invented so much."
4. Axis Tower
It's not going to be one of Manchester's tallest buildings, but it will be one of the more uniquely shaped ones. Moving away from the usual square-like structures, the Axis Tower will have a much narrower rectangular style that adds a stylish touch to the Deansgate area.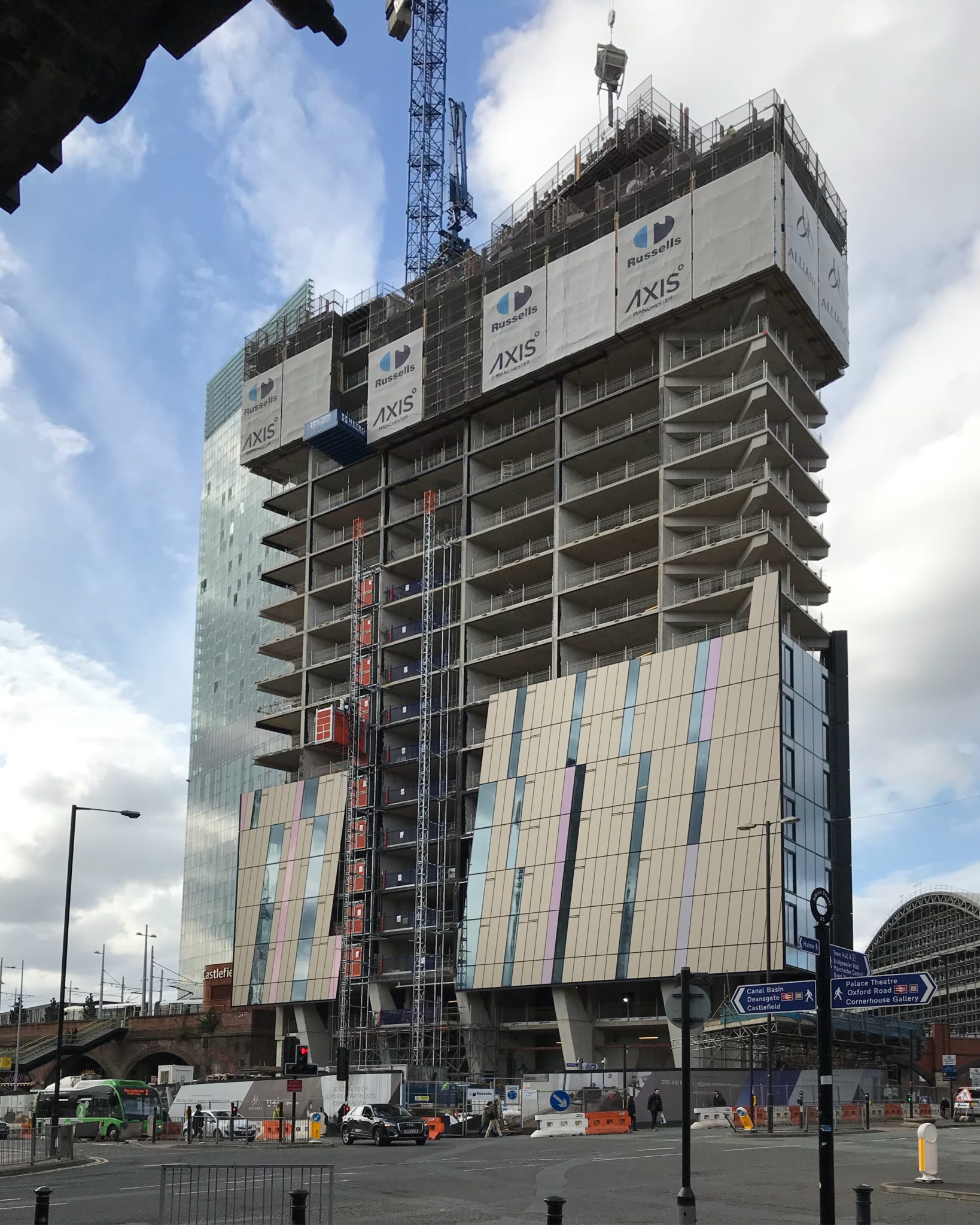 It's an entirely residential project, set to be made up of over 160 two and three bedroom apartments, as well as two luxurious penthouses that offer 360 degrees of Manchester. The Axis project spans back over a decade, with design originally taking place in 2007, before numerous setbacks and rethinks meant construction didn't begin until the start of 2017.
As of November 2018, the building has reached its full height, and cladding has started to be added, with the project due for completion in 2019.
5. Trinity Islands
Deansgate Square's South Tower isn't going to hold onto it's tallest building in Manchester record for long…
Trinity Islands has been dubbed "Manchester's first vertical village", and will consist of five new towers that will make up over 1,400 new homes. The five towers will vary in size, with the smallest featuring 29 floors, and the biggest reaching more than double its height.
Once completed, Trinity Tower X will reach a huge 213 m in height, becoming the tallest building in the UK outside of London. But there's a bit of a wait to see it come to fruition… The project isn't set to be completed until 2022!
6. Landmark
St Peter's Square is set to receive a stylish new office block in the form of Landmark Manchester. The new offices will be built on Oxford Street behind One St Peter's Square, another modern office building that opened in 2014.
Landmark is currently being built upon the site of the former Odeon Cinema which closed in 2004 after over 70 years of use, with demolition taking place in 2017 and construction starting not long afterwards.
There'll be 13 floors of prime working space, and a double-height reception area, with the project looking to capitalise on the need for new city centre office space.
Charlie Weeks, head of Barings Real Estate Europe who are behind the build, told Insider Media Ltd: "Landmark will play a pivotal role in enhancing what the city has to offer by providing businesses with a destination that is both modern and flexible, as well as providing excellent infrastructure and connectivity."
7. Circle Square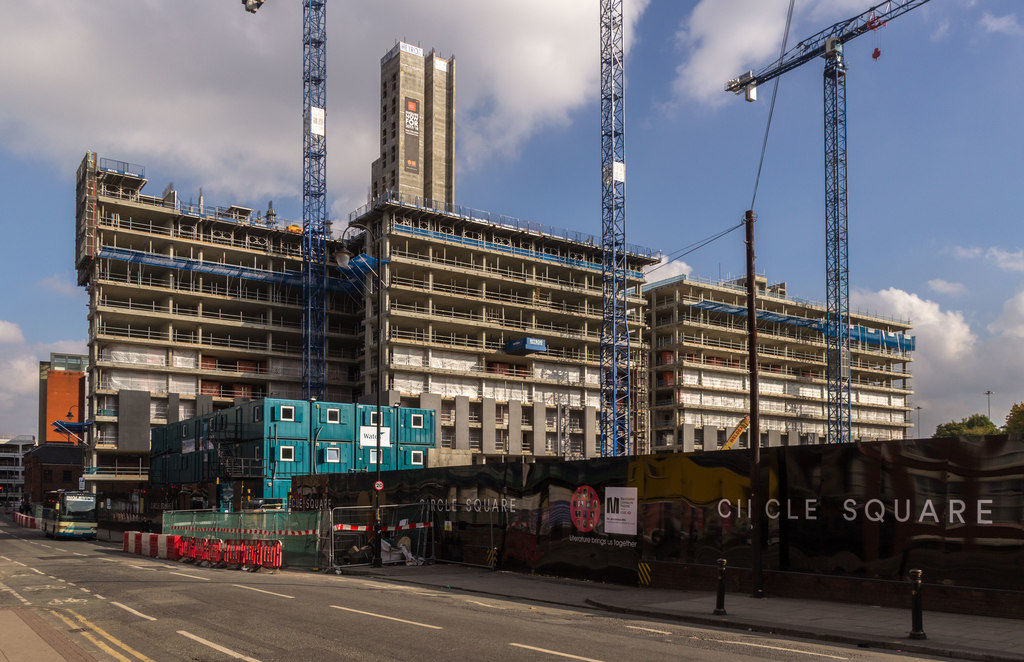 An entire new neighbourhood is set to be built on Manchester's Oxford Road, offering new accommodation for students at the nearby Manchester Metropolitan University.
The site that once housed the base of BBC Manchester is now a hive of construction activity as the huge Circle Square project comes together to offer over 680 new apartments in two major buildings – one with 37 stories, and the other with 17.
When the entire place is finished in 2023, there'll also be a 150 room hotel, and a huge amount of office space.
---
For more information about Richard and his work, please click HERE.