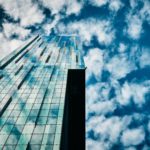 Manchester is easily one of the UK's biggest cultural hubs, with a rich history of music, sport and art providing countless internationally recognised icons. In the music world, the Madchester scene was one of the biggest musical waves of the 90s, while our city also contributed some of the most renowned names of the Britpop era. In sport, we have two of the world's most successful football teams providing Manchester with global recognition, while elsewhere the city is linked with huge names in art, politics, science and more.
Despite there being a huge number of local icons, we've put together a list that whittles it down to just eight of the most iconic names of Manchester.
1. Emmeline Pankhurst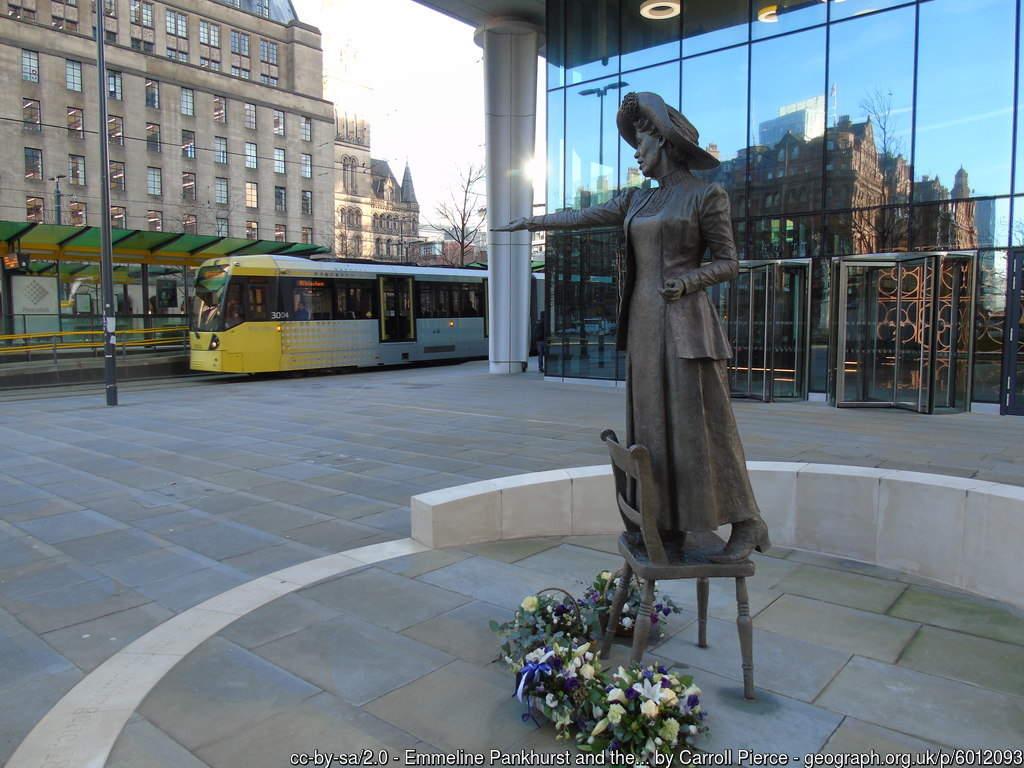 Emmeline Pankhurst is widely credited with being the person who helped women in the United Kingdom gain the right to vote, thanks to her work as a leader of the women's suffrage movement.
Born as Emiline Goulden in 1858, Pankhurst grew up in Seedley, Salford after moving from her Moss Side birthplace at a very early age.
She first learned about the women's suffrage movement when she was 14, and spent the rest of her life attempting to make strides for change.
In 1889, she founded the Women's Franchise League, and later formed the Women's Social and Political Union in 1903.
A key figure in the suffrage movement, Pankhurst's work helped change the country for the better, with parliament granting votes to all men over the age of 21, and women over the age of 30 in 1918.
She died in 1928 at the age of 69, sadly missing the government's next move a few weeks later, which saw all women over the age of 21 finally get the vote.
Her impact won't ever be forgotten, with a statue unveiled in 1930 now standing at Victoria Tower Garden in London, and a piece titled "Rise Up Women" (pictured above) sculpted by Hazel Reeves installed in St Peter's Square, Manchester in 2018.
In 1999, she was included on Time's list of the 100 most important people of the 20th century, alongside names such as Winston Churchill, Nelson Mandela, and Mohandas Gandhi.
2. L.S. Lowry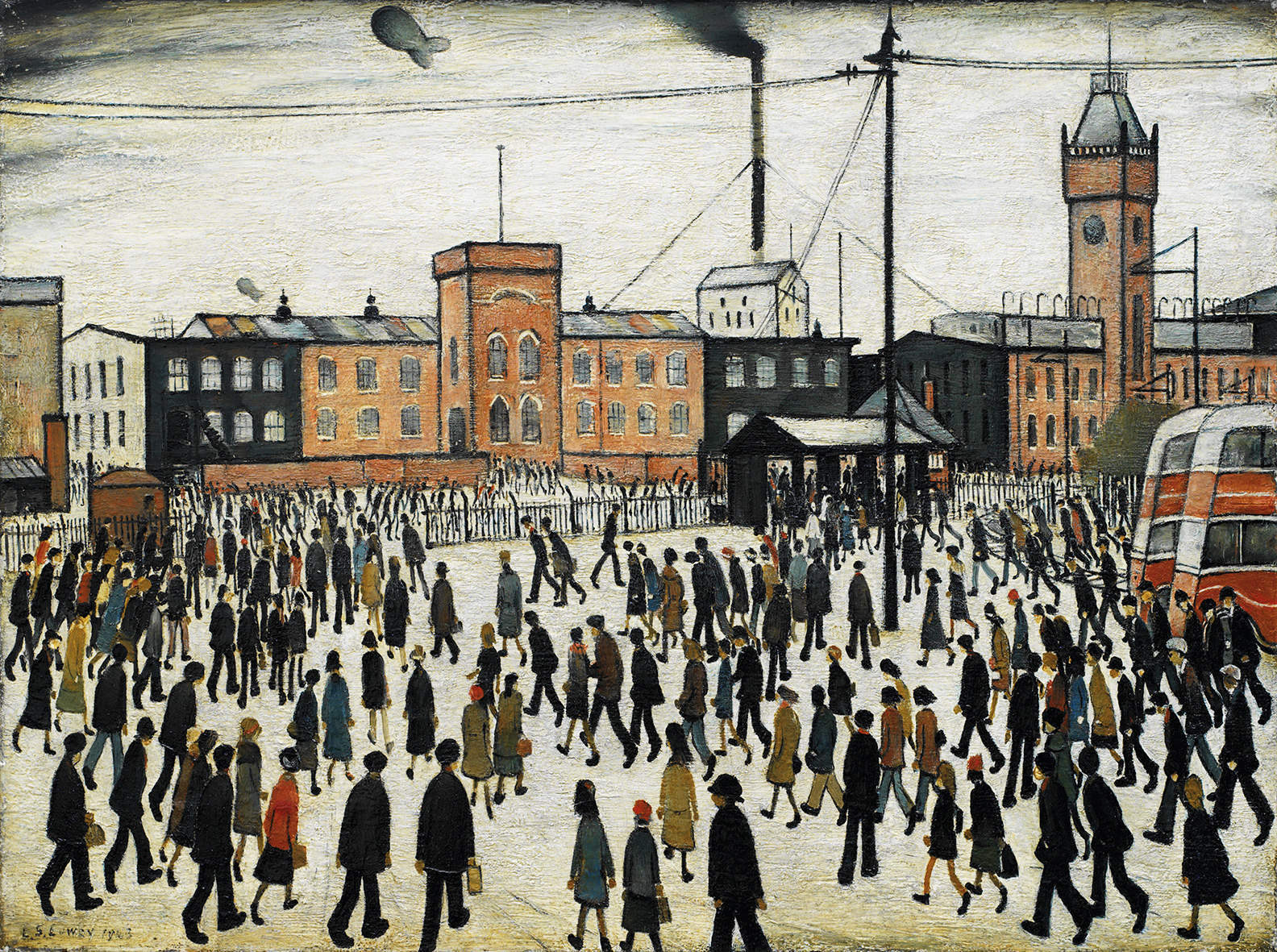 L.S. Lowry is one of the UK's most renowned artists, primarily for his distinctive 'matchstick men' paintings of industrial scenes in the North West.
Lowry was born in 1887 in Stretford, later growing up in Rusholme before moving to Pendlebury when he was 22. The move from a greener neighbourhood to an industrial town stuck with Lowry throughout his career, likely inspiring the direction in which he later took his art.
In 1905, Lowry studied under French impressionist Pierre Adolphe Valette at the Manchester School of Art, later learning further at the Royal Technical Institute in Salford where he began to focus on the industrial scenes for which he became known for.
His paintings mostly consisted of unremarkable, normal life scenes in the North West, including football fans attending a match in Bolton, the outpatients hall of Ancoats Hospital, and workers heading to their industrial jobs in Manchester.
His artistic legacy is ever-prominent, Salford Quays now being home to both a theatre/gallery complex and shopping centre named after him, and a song, 'Matchstalk Men and Matchstalk Cats and Dogs" written about him, getting to number one in 1978, two years after his death.
3. Noel & Liam Gallagher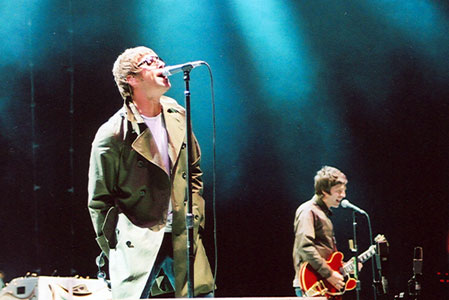 While Liverpool is known for The Beatles, Manchester became synonymous with Oasis.
Noel Gallagher was born in Longsight in 1967, with brother Liam following in 1972. They remained in the city throughout their childhood, gradually forming an interest in music before forming a writing partnership.
Originally, the pair played in band The Rain, which after a lack of success, evolved into Oasis. After a slow start, the new band were spotted by the co-owner of Creation Records Alan Mcgee in 1993, who offered to sign them.
Their debut album "Definitely Maybe" followed in 1994, and along with their next release "(What's the Story) Morning Glory?" in 1995, is considered highly in the music world. 'Morning Glory' became one of the biggest selling albums of all-time, with its tracks such as "Wonderwall" and "Don't Look Back in Anger" becoming popular anthems.
Although Oasis split in 2009, with an intense rivalry between the two brothers, their place as icons of Manchester has only become stronger. Following 2017's tragic bombing at Manchester Arena, "Don't Look Back in Anger" became linked with the event, being sung by crowds at memorial gatherings, and even performed by a military band of the French Republican Guard at a France vs England football match as a tribute.
4. Alan Turing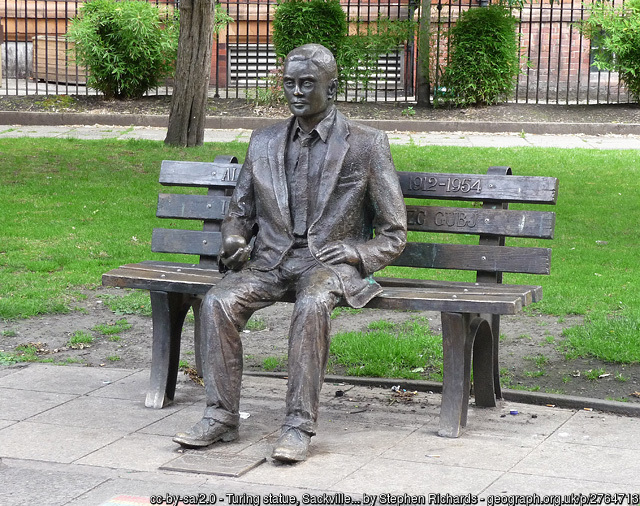 Alan Turing is one of the only names on the list who wasn't actually from Manchester, but as a result of his achievements and time here, has become synonymous with the city.
Turing was born in Maida Vale, London in 1912, and played a revolutionary part in improving Britain's code breaking techniques at Bletchley Park during the Second World War – estimates suggest that his work shortened the war by more than two years, saving at least 14 million lives.
Despite his incredible work, his later life saw him treated very poorly by authorities, something which is thought to have contributed to his later suicide at the age of 41.
Turing moved to Manchester in 1948, where he began work at the Computing Machine Laboratory at the Victoria University of Manchester. It was in Manchester where he started a homosexual relationship with Arnold Murray – while out with him, his home was burgled, and due to Murray knowing the burglar, Turing was forced to admit his relationship to police when reporting the crime.
What followed was a criminal conviction for "gross indecency", due to the illegality of homosexuality at the time. In court, Turing was giving a choice between imprisonment or probation, with the latter choice only being available on the condition he submitted himself for hormone treatment to reduce libido – effectively chemical castration.
In 1954, Turing was found dead, with cyanide poisoning the cause, and an inquest later determining he'd committed suicide.
His legacy has lived on though, with the British government issuing an apology in 2009 for his treatment, and in 2016 a law known as the "Alan Turing law" was created, which seeks to pardon men who received convictions or cautions for homosexuality before it was legalised.
Manchester now has a road and bridge named after Turing, as well as the Alan Turing Building at the University of Manchester, and a memorial statue (pictured above) in Sackville Park.
5. Ian Curtis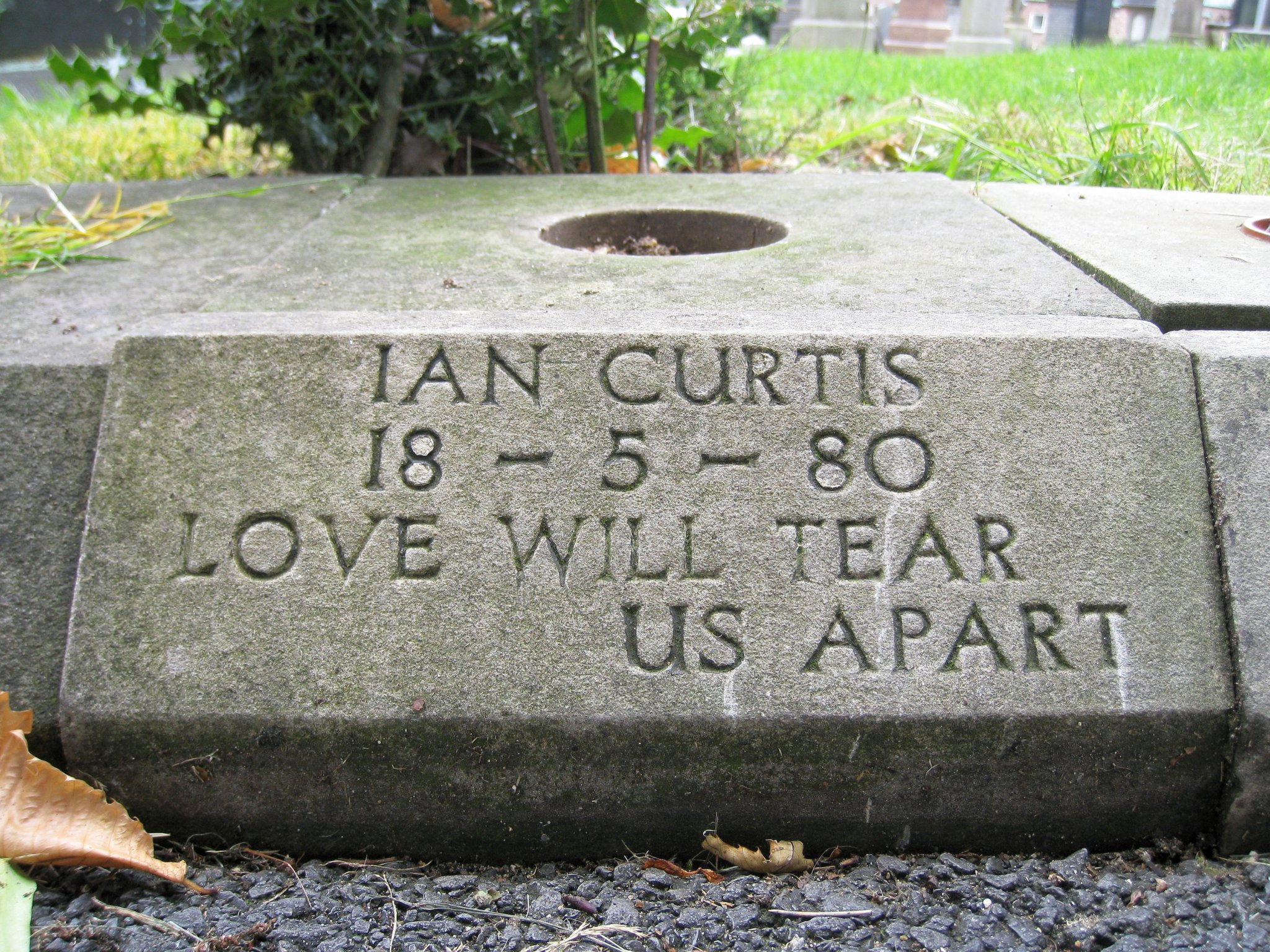 Another musical icon for Manchester, Ian Curtis is renowned for his work with Joy Division.
Ian Curtis was born in 1956 in Stretford, before moving to Macclesfield where he spent his childhood. He did return to Manchester later in life though, first working in a city centre record shop, before becoming a civil servant in Cheadle Hulme, and later Piccadilly Gardens.
In 1975, Ian Curtis married Deborah Woodruff, who he'd dated since they were both 16. They resided in Chadderton, Oldham before they moved back to Macclesfield.
In 1976, Curtis met former school friends Bernard Sumner, Peter Hook, and Terry Mason, who discussed an ambition of starting a band with him. The band first named themselves Warsaw before becoming Joy Division, with Mason replaced by drummer Stephen Morris in what would become their famous line-up.
Joy Division became one of the UK's best known bands, with debut album "Unknown Pleasures" a success, and song "Love Will Tear Us Apart" an iconic tune.
Despite their success, Ian Curtis struggled as their frontman, with severe epilepsy leading to him often having seizures on stage. He was also deeply depressed, first attempting suicide in April 1980, but later dying at the age of 23 on the eve of the band's first North American tour – the pressure of the tour, combined with the breakdown of his marriage, are thought to have contributed to his tragic death.
His ashes were buried at Macclesfield Cemetery, where a memorial stone now stands with the inscription "Love Will Tear Us Apart".
6. Sir Matt Busby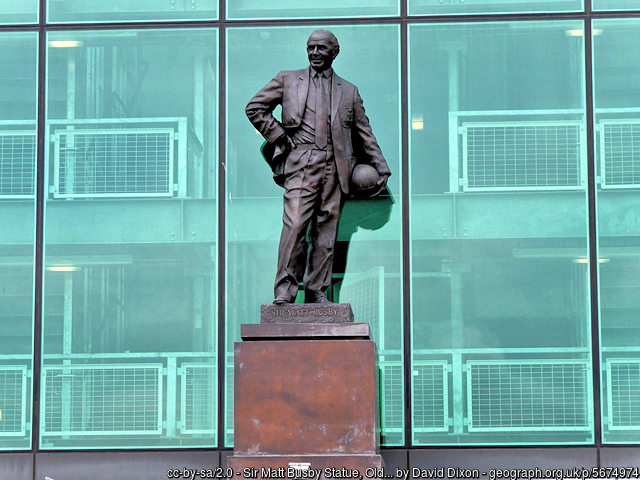 Another name not actually from Manchester, Matt Busby has become a huge part of Manchester's illustrious footballing history.
Busby was born in 1909 in Scotland, and initially balanced working as a collier with playing football for the junior side Denny Hibernian. However, in 1928, the days of part-time football were over, as Busby was signed by Manchester City, who he joined at the of 18 on a one-year deal, which was later extended.
Overall, Busby made more than 200 appearances for the blue half of Manchester, remaining at the club until 1936, and playing a part in their 1933-34 FA Cup winning side.
Despite a strong playing career at Manchester City, and later spending several years lining up for Liverpool FC, it's his time as a manager for which he's become best known.
Busby joined Manchester United in 1945, and built a side that became famously known as the 'Busby Babes'. Together, they won several honours including three first division titles, before disaster struck in 1958.
In 1958, following a game in Yugoslavia in the European Cup competition, the Manchester United squad was involved in a tragic plane crash that killed 23 people. Among those dead were eight United players and three members of club staff, while two surviving players never took to the field again.
Busby was severely injured during the incident, twice being read his last rites in hospital, but later recovered and left hospital after nine weeks. With a depleted squad and a club struck by tragedy, Busby initially felt like leaving United, but later set about building a new side, winning two more first division titles, the FA Cup, and the European Cup, following which he received a knighthood.
Sir Matt Busby left Manchester United in 1969, briefly returning a year later until 1971, but never going on to manage elsewhere. He died at the age of 84 in 1994, but left behind a legacy that considers him one of the best football managers of all time.
7. Tony Wilson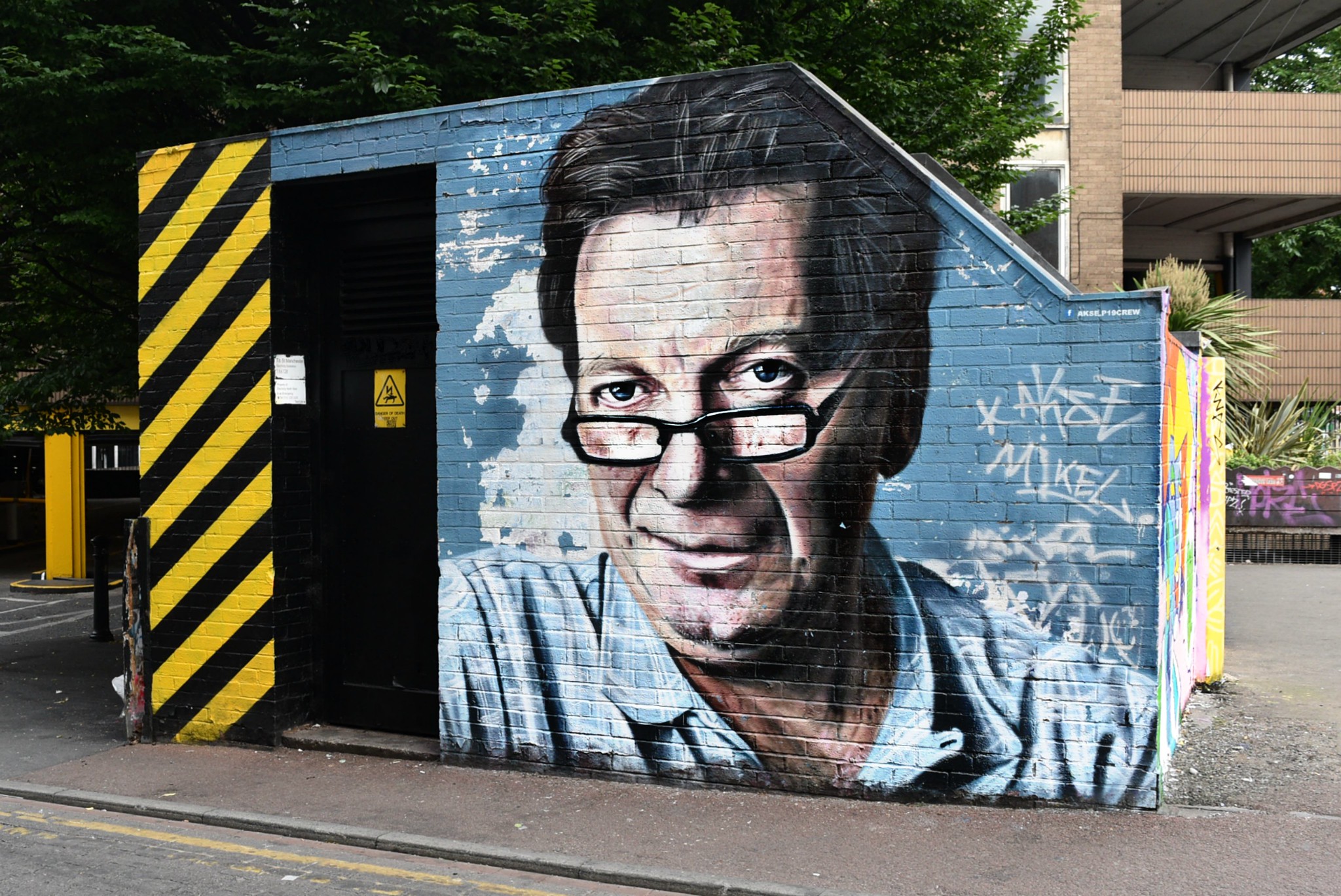 Manchester's music scene is one of the city's biggest global appeals, and this is something that can be partially credited to Tony Wilson.
Tony Wilson was born in 1950 in Pendleton, Salford, and initially moved between careers before finding the success he became known for. At first, he was an English and Drama teacher in Oldham, and later became a news reporter on Granada Television.
However, it was his work in the music industry that led to his inclusion as an icon of Manchester. In 1978, he founded Factory Records with Alan Erasmus, a label that signed some of Manchester's best known names. Factory Records was the label on which Joy Division released their records, as well as New Order, Happy Mondays, and James, amongst others.
His work on the music scene went further, as his record label helped to finance The Hacienda, a club that became an iconic part of Manchester's cultural history, and played host to gigs by artists including Madonna. It went on to become a leading part of the house music scene, and later acid house and rave, before crime and financial loss lead to the eventual closure of the club in 1997.
Tony Wilson's work in local broadcasting and the Manchester music scene has led to him becoming one of Manchester's great icons. Wilson sadly died in 2007 at the age of 57, with his gravestone describing him as a broadcaster and "cultural catalyst".